While most people are finalizing their wish lists for the approaching holidays, Washington DC's nonprofits and businesses are finding ways to give back to their local community this year. From homelessness to education to conservation, here are 12 ways DC is giving back this holiday season.
1. The 25th Project
Based in Northern Virginia, The 25th Project serves homeless individuals in Northern Virginia and DC. This grassroots nonprofit started in Thanksgiving 2002 and has steadily evolved since then. Its volunteers work together to distribute meals to the homeless in the area on the 25th of each month, hence the organization's name.

The 25th Project is passionate about recognizing the importance of a warm meal and a bit of extra kindness, particularly around the holidays. They are currently accepting volunteers willing to provide special assistance during the holiday season. If you're interested in volunteering, you can bring pre-cooked meals to the events, help package meals, or deliver hot meals in the Northern Virginia and D.C. area.
2. Dumbarton Oaks Park Conservancy
When it comes to giving back to the community, this conservancy focuses on Mother Nature. Dumbarton Oaks Park Conservancy is a nonprofit established in 2010 to work to restore one of the 10 greatest garden landscape designs: the 27-acre Dumbarton Oaks Park. In partnership with the National Park Service, the Dumbarton Oaks Park Conservancy seeks to bring this historic park back to its regal splendor. There are a variety of volunteer opportunities available with the conservancy, including plant inventory, ecological/historical studies, and opportunities for community and corporate groups.
3. The Open Book Foundation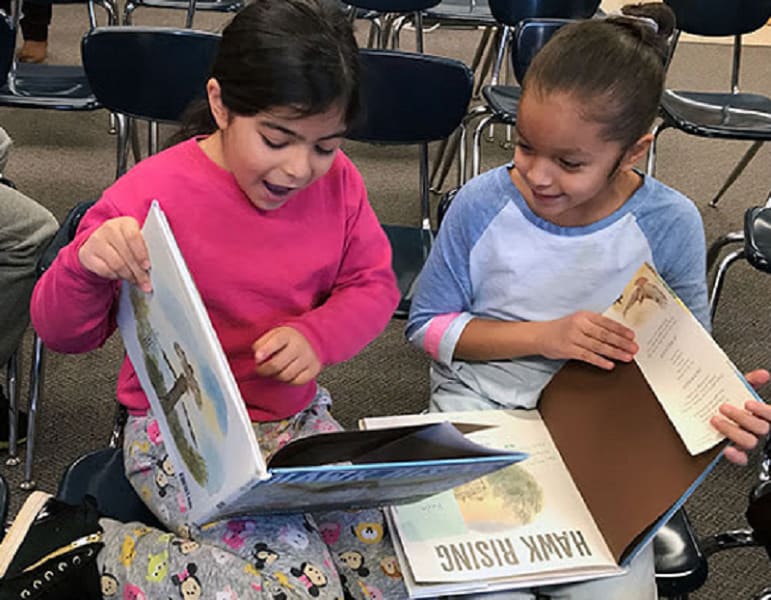 Credit: An Open Book Foundation
The Open Book Foundation was created in 2011 with a simple mission to "bridge the literacy gap amongst low-income elementary schools." Its two founders aimed to give back to the community in a tangible way. Understanding the importance of education and literature, the founders decided they would focus on providing new books to Title 1 elementary schools and providing literacy resources to teachers. Over the past nine years, the Open Book Foundation has donated 100,000 new books to elementary schools in both Washington DC and throughout the country. Donating is a simple way to get involved and make a difference in your local community — and it couldn't be more affordable! Every $3 provides one free book for a child in need. Join in the fight today for education equality.
4. SOME
2020 has undeniably been a year filled with hardships and uncertainties. In response to that, this DC-based nonprofit is kicking it up a notch when it comes to giving back to their community. SOME — So Others May Eat — has been involved in the community for the past 50 years fighting homelessness, hunger, and poverty in the Washington DC area. Throughout the year, this nonprofit has been committed to looking after the city's most vulnerable residents and providing them with the care and services they need. Each year, SOME serves over 40,000 meals to hungry individuals in the community. Get involved by donating food or participating in a holiday volunteer opportunity.
5. Central Union Mission
This holiday season, Central Union Mission is giving back to its community by meeting the needs of DC's homeless and hurting people. In addition to its emergency shelter, this DC-based nonprofit provides over 60,000 bed nights each year. They also provide benefits for veterans, run a camp for underprivileged children, and assist senior citizens.

The Mission is constantly developing and adapting its programs to meet the needs of the ever-changing community. Its volunteers and staff are passionate about offering physical, emotional, and spiritual services to vulnerable individuals and are currently working to provide toiletry kits, nutrition kits, COVID-19 kits, and more. You can get involved in creating some of these much-needed kits for families or individuals in need. If you are unable to create these packs, you might consider donating to support this local nonprofit. For just $2.09, you can give a Thanksgiving dinner to a neighbor in need. A little kindness goes a long way.
6. Miriam's Kitchen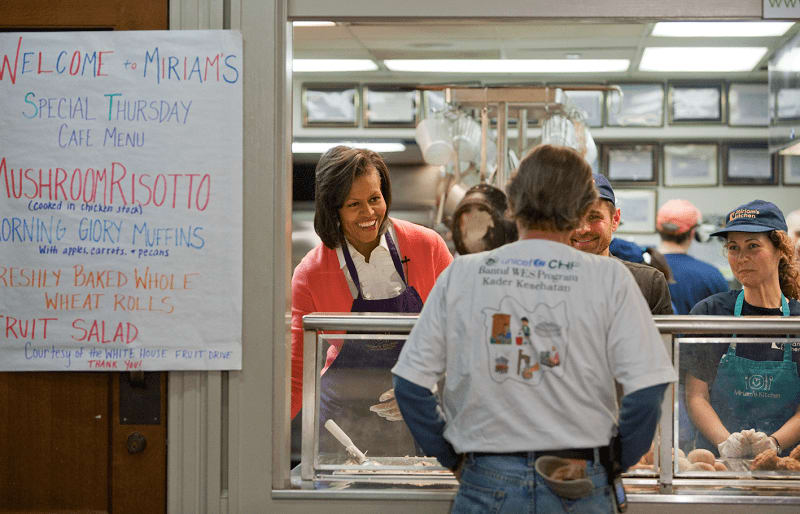 Since being founded in 1983, Miriam's Kitchen has sought to respond to the immediate needs of individuals facing homelessness in downtown Washington DC. Three organizations came together to form Miriam's Kitchen: Western Presbyterian Church, Unity Church, and the George Washington University Hillel. What started as simply serving breakfast to those in need has evolved into something more — a fight to end homelessness.

Miriam's Kitchen gives back to their community with a housing program, advocacy program, and partnerships with community partners, such as nurses, psychiatrists, and lawyers. You can be part of the incredible work that Miriam's Kitchen is doing by donating or volunteering.
7. Akin Gump
This acclaimed DC law firm has gained a reputation for being one of the most charitable in the city — and this holiday season is no exception. Akin Gump was one of the first to get involved when the Washington Lawyers' Committee for Civil Rights and Urban Affairs, an innovative program that pairs local schools with lawyers, launched in 1979. For more than 20 years, Akin Gump has worked with Tyler Elementary School in Southeast DC to revamp the library, install an outdoor classroom, and sponsor academic-enrichment programs.

And that's not all this incredible law firm has done for their community. They have also painted walls and murals in neighborhoods, rebuilt playground equipment, and helped install storage units at a community center. In 2019, they held their second annual day of service. Akin Gump serves as an inspiration for other corporations to step up and find ways to invest in their community.
8. Kicheko Goods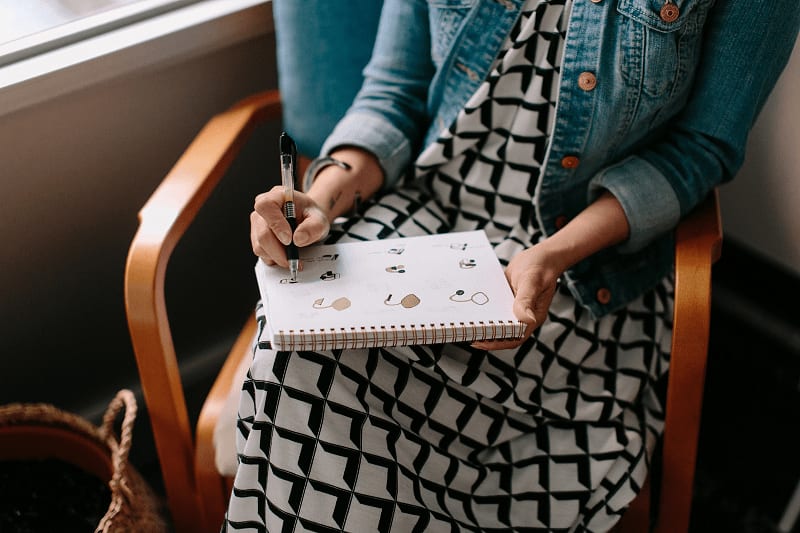 Credit: Kicheko Goods
Kicheko Goods was started when founder Sarah Bayot took a trip to the Democratic Republic of the Congo that changed her life. During this volunteer trip in 2011, Sarah learned about the harsh realities that many orphan children face. In 2014, she launched her mixed-media jewelry business with this slogan: "Jewelry that invests in education." Each piece of jewelry sold funds one month of school for one child. From earrings to necklaces to other products, Kicheko Goods offers high quality, stunning pieces. Stop by her DC location or browse the Kicheko Goods website to select gifts to order for loved ones. Not only will you be supporting a local business, but your money will also go to an inspiring cause.
9. Bread for the City
Bread for the City is no stranger to giving back to their community — and in the face of this year's hardships, they are doing everything they can to step up. This local nonprofit began in 1974 to help with the city's lower-income individuals. Since then, Bread for the City has grown to operate two Centers in DC and provide direct services to low-income residents. All of their services are free and include food, clothing, medical care, legal, and more. Each year, Bread for the city hosts their Helping Holidays event, and this year their goal is to raise $1 million for 15,000 families impacted by the pandemic. In the spirit of holiday giving, start by sponsoring a family today.
10. Martha's Table
Credit: Martha's Table
Since being founded in 1980, Martha's Table has been all about pouring resources back into the community. This DC nonprofit supports children, families, and communities by increasing access to top-notch education, nutritious food, and family and community support. Thanks to the help of volunteers (like you!), Martha's Table has expanded its food programs by over 400 percent. With the holidays approaching, now is the perfect time for you to get involved and donate or volunteer!
11. Raffa
Raffa — Marcum's Nonprofit and Social Service Group — was founded in 1984. Since then, this DC firm has been passionate about being more than just good accountants. They believe in the importance of giving back to their community and hiring employees who are equally passionate about making a difference in serving their community. And Raffa stands by this mission: they give their DC office unlimited paid leave for volunteering. As a result, Raffa employees donated 14,000-plus volunteer hours in 2017 doing everything from community engagement to pro bono work. This firm is truly an inspiration to other DC companies looking for ways to give back to the communities in which they operate.
12. City Winery
Although City Winery is relatively new on the DC scene, they have already shown their commitment to giving back to their city. They have worked with a plethora of charities, including Big Brothers/Big Sisters, Habitat for Humanity, and the American Cancer Society (just to name a few). They also created a private-label wine for the group Knock Out Abuse Against Women, which was auctioned off for donors. Whether you plan to stop by for a tasting or pick up a bottle of wine for a Christmas gift, you can rest assured knowing your new favorite local winery is creating good.
If you're looking to explore Washington D.C. real estate, contact David Hatef today. As one of the top Washington D.C. real estate agents, David serves a wide range of neighborhoods. His expertise and dedication to his clients will help you find the perfect property.